Ambisonic Encoder/Decoder plug-in is a software tool used to process and manipulate Ambisonic audio recordings. It consists of two main components: the encoder and the decoder.
Ambisonics Encoder: The plugin's encoder takes multiple audio sources, typically recorded with an Ambisonic microphone, and converts them to the B Ambisonic format. B format is a maths model for sound, showing both loudness and direction in 3D. The encoding process involves applying specific mathematical transformations to the audio signals.
Ambisonics Decoder: The decoder component performs the reverse process of the encoder. It changes Ambisonics B-format audio to the right channels for a specific speaker arrangement. The decoder makes sure the sound field is reproduced accurately in the environment.
AMBEO A-B Converter
The AMBEO A-B Converter is the free tool that converts the output of the Sennheiser AMBEO VR Mic into Ambisonics B-Format. After the conversion it is directly compatible with the spatial audio format of both Youtube and Facebook 360 videos. The plugin supports both FuMa and ambiX output and has a specially tuned "Ambisonics Correction Filter" that improves spatial accuracy when used with the AMBEO VR Mic. It's also possible to define the recording position and adjust the orientation to realign with the camera angle.
VVEncode is a plugin that converts the raw signals from a TetraMic or Brahma, known as A-Format, and converts them to B-Format. This processing is performed using the individual calibration files for each mic. The resulting signal can be processed in various ways, like rotation or zooming, and then converted the stereo, 5.1 or other formats with a decoder like VVDecode.
ab Transcoder
A Format to FUMA or AMBIX
ab Transcoder can convert any A-FORMAT (types I or II), FUMA or AMBIX signals to AMBIX or FUMA. This plugin is ONLY compatible with 1st Order Ambisonics A-FORMAT and B-FORMAT signals.
The E4L Master Bus is also responsible for decoding these 16-channels of Ambisonics audio into a selected output format. These outputs may be routed to dedicated soundcard outputs, or monitored via Ableton's main stereo bus.
ab Decoder Light (Free)
Ambisonic 1OA to Headphones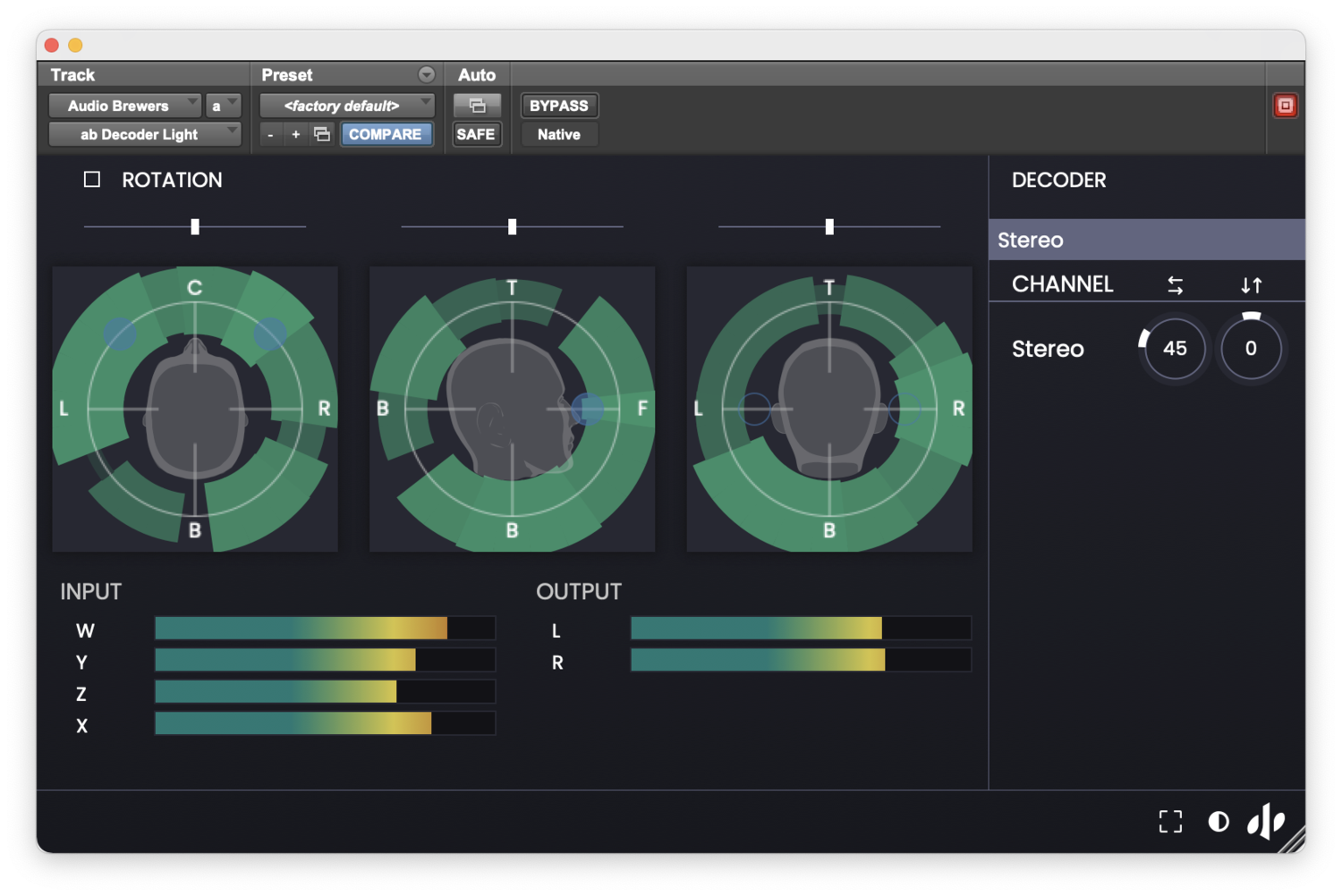 ab Decoder Light is the free version of the decoder, which automatically adapts the input signal (Ambisonics) to Stereo/Headphones Stereo.
A Rotation Control helps the user rotate the signal in the spatial field (true panning.An Azimuth and Elevation control allow the user to flexibly place the speakers at different positions in the spatial field.
This plugin might be enough to those composers, musicians and sound engineers who work in with Stereo signals.
Ambi Head HD
Ambi Head HD is a professional plugin for converting ambisonic signals (ambiX up to order 3) into 3D binaural audio. It allows manipulations of 3D scenes (rotations and control of spatial width) and contains HRTF filters specifically designed for immersive listening and accurate reproduction.
Ambi Converter
Ambi Converter is a simple free plugin (VST, AU, AAX) to convert B-format signals from FuMa to ambiX and vice-versa.
IEM StereoEncoder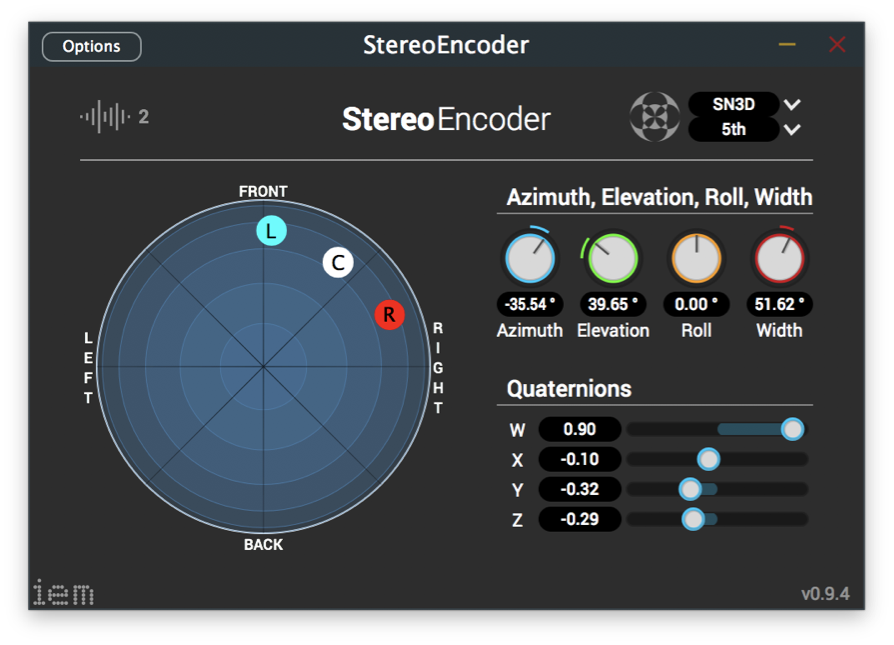 Use the StereoEncoder plug-in to encode mono or stereo audio signals into the Ambisonic domain – up to 7th order. The interface lets you easily set the orientation, width and rotation of the stereo pair. With a simple double-click onto the SpherePanner you can change the display to a linear elevation, which gives you a higher accuracy towards the horizon.
B360 Ambisonics Encoder
Waves B360 converts standard audio tracks to B-format Ambisonics. This lets you mix with standard audio formats (from mono to 7.1) and convert the mix to a four-channel Ambisonics format. You can also mix ambisonic tracks with regular mix elements, which opens more sound design possibilities. B360 offers precise panning in up to seven image sources.
ab Encoder
Stereo/Mono/Other to Ambisonic
We created this plugin so that you could grab ANY Mono, Stereo, Quadraphonic 4.0, Surround 5.1, 7.1, Atmos Beds 7.1.2, or 7.1.4 signal and encode it in a matter of seconds to Ambisonics (1OA through 7OA)*.
IEM AllRADecoder
Ambisonic to other sound systems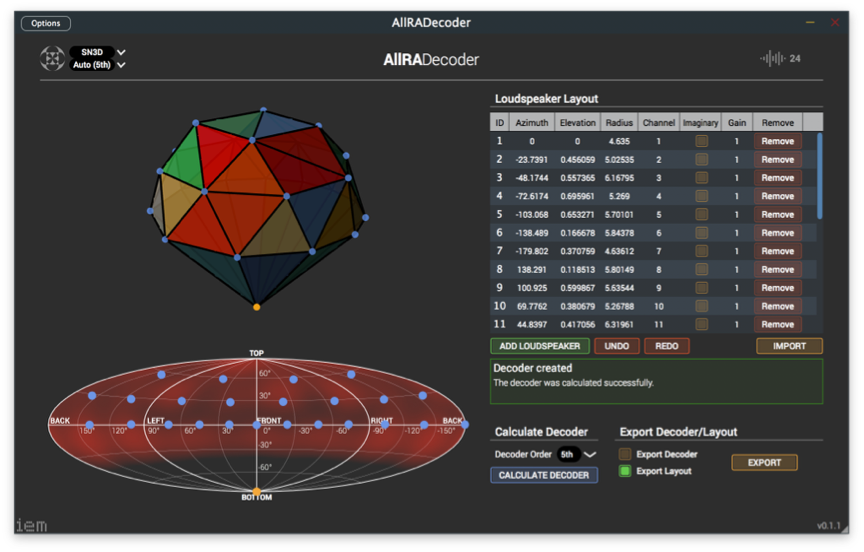 With the AllRADecoder you can design an Ambisonic decoder for an any desired loudspeaker layout using the AllRAD approach.
The resulting decoder is automatically applied to the incoming Ambisonic audio stream, so it can be directly inserted into a decoder track of your audio project. You might also want to use it as a standalone application to design a decoder and write it into a JSON configuration file for the use in other plug-ins (e.g. SimpleDecoder).
Ambi Pan HD
Ambi Pan HD is a 3D ambiX panner, supporting high order ambisonics up to order 3.
It lets you create 3D positional audio in a minute, ready to embed in 360 videos, games and VR applications.
Two different panning views, from above or equirectangular, offer flexibility to design complex trajectories. A transparent window allows to pan on top of a 360 video in equirectangular mode.
Envelop for Live (E4L)
Source Panner | Mono Panner | Stereo Panner
3DX realizes the highest sound quality and enables sound field expression beyond the real world. By integrating the functions necessary for 3D sound production such as 3D panning, binaural and ambisonic into a single plug-in, it provides a sophisticated production workflow.
3DX is equipped with the award-winning HPL binaural processor.
The resultant sound quality is so highly rated, it's featured in the production of high-quality high-resolution sound sources and the mix of numerous award-winning works.
dearVR PRO is the all-in-one spatializing solution for professional audio productions offering state-of-the-art binaural, Ambisonics, and 26 multi-channel loudspeaker output formats up to 9.1.6.
The dearVR VHSP technology combines the ultra-realistic room and distance simulation with the groundbreaking virtual height speaker perception for 5.1 and 7.1 setups.
Harpex is a signal processing algorithm designed to extract the maximum amount of spatial information from sound field recordings. With the Harpex plug-ins, content creators use this technology to transform sound field recordings in A-format, B-format or AmbiX into the standard surround and 3D surround formats used in film and television, coincident, non-coincident and binaural stereo, or higher-order AmbiX for VR and AR applications.
The 'SoundField by RØDE' plugin operates in a completely different way to traditional ambisonic processors. Eschewing the matrices and correction filters of previous generations, it utilises state-of-the-art frequency-domain processing to deliver unparalleled spatial accuracy at all frequencies.
The 'SoundField by RØDE' plugin allows the user to quickly set up mixes for all the common surround-sound formats, from 5.1 through to 7.1.4 (with-height) formats. Custom formats and speaker arrays can be quickly catered for, giving unparalleled flexibility and control.
Envelop Ambisonic RTMP Streaming Higher-Order Transcoder (Earshot) is a containerized multichannel RTMP->DASH transcoder, based on ngnix. Earshot can be used to transcode higher-order Ambisonics and other multichannel live streams for the web.
IEM GranularEncoder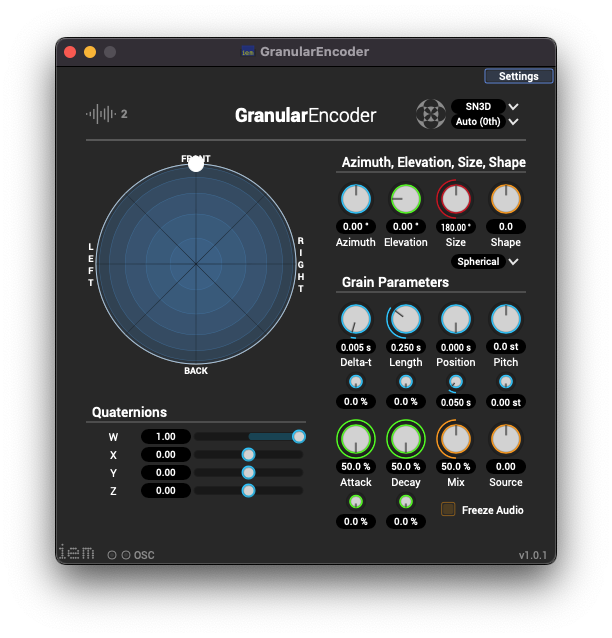 The GranularEncoder is an Ambisonic granular synthesis plug-in. That's right, it is the first Ambisonic synthesizer plug-in released in the suite! The best thing about it: you can use any mono or stereo audio signal, and turn it into an enveloping sound scene, or crush the signal into microscopic sonic particles!